Brantley Gilbert and wife, Amber Are Expecting New Baby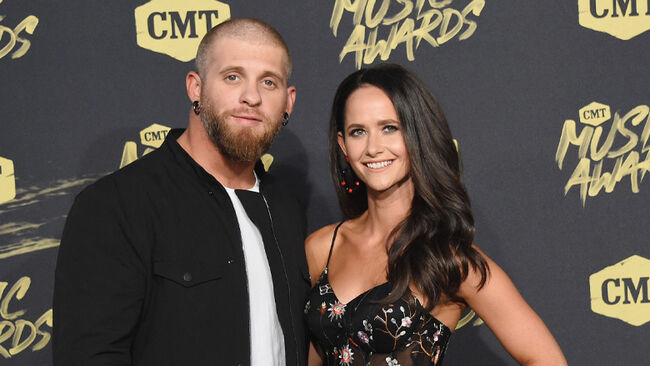 Brantley Gilbert and his wife, Amber are proud parents to their 16-month-old son Barrett Hardy-Clay, and their family is expanding again. The couple is tickled pink and were eager to make the official announcement via People.
RELATED: Video: Brantley Gilbert Introduces Son During Show.
The "Kick It In The Sticks" singer and Amber shared an inside glance at their gender reveal party. Fans can see the happy trio tugging a string that's attached to a box above their heads as pink balloons and confetti rain down revealing that they should expect a daughter to arrive in September.
As thrilled as the trio were at the news, Brantley shared that he took notice of a small snafu that allowed a solitary pink ball to escape clueing him in on the gender. Amber, however, missed the cue.
"I didn't see it," Amber tells PEOPLE with a laugh. "I was so busy watching Barrett, but I saw the look on Brantley's face. And then when the box finally opened … it was amazing. There was all this pink girl confetti, balls and stuff everywhere. My mom was crying, and I had tears in my eyes. But Brantley? He was just crying," she adds.
"Oh, I cried!" he reveals to PEOPLE. "I was so sure it was a boy. I wasn't ready for it to be a little girl — and man, when it was! I just wanted a healthy, happy baby, but a little girl means a whole other deal. I know I have so much to learn," adds 34-year-old. "You even diaper them differently, so I'm gonna be learning a whole lot of stuff from these books Amber reads — and I can't wait!"
Congrats to the Gilbert family, now, a party of FOUR!
Photo Credit: Getty Images.